Cowboy Gallery
Send Photos of you in our Duds to: Info@reviwear.com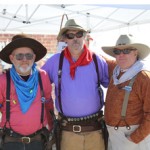 You can also post them to our Facebook Wall
Larry Fowler
Hi Jimmy,
This is a picture of my husband, Larry Fowler, wearing his "birthday present" from Sept, 2010. He loves it!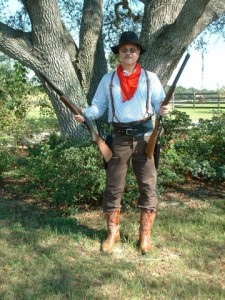 Dirty Dog Alf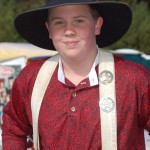 Best Dressed Buckaroo at The Uprising at Swearing Creek 2010/ SASS NC State Championship
Dirty Dog Alf was SASS NC State Champion Buckaroo 2010, 2009, 2008..maybe more. A great pard and a fine young man who always greets you with a smile!
Pearl
Pearl Is wearing our New Skirt for Cowgirls.
She is photographed between shooting stages at The Uprising at Swearing Creek 2010/ SASS NC State Championship.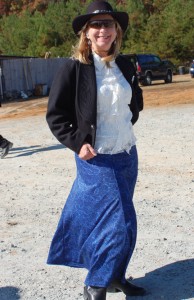 Pittsburg Mac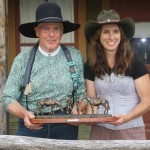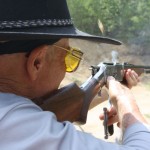 Attached are a couple of photos taken this year. One is of Appaloosa Amy and Pittsburg Mac with their Top Gun Shoot-off winners trophy at the MA/CT/RI Championship and the other is me shooting my rifle.Your shirts are number one and I have had my most successful year ever. I give my Reviwear shirts a lot of the credit for my improved performance. Next to my Jimmy Spurs guns they are the top equipment that I own. Thanks!!!
"Pittsburg Mac"- SASS Life 20796-TG Danvers Desperadoes
Deputy Dangit
Great shirts and great service.  They definitely keep you cool in the summer.  Can't wait to get more.  Thanks for a great product.
Deputy Dangit.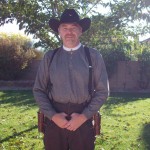 Texas Slim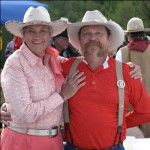 Texas Slim and wife, Lil MCgill, at the Billy the Kid Breakout in Ruidoso, NM. I am always a cooler cowboy shooter when I am shooting in a Cowboy Cooler Shirt! I love the bright colors! So, get yourself a few, you won't be disappointed. All my friends and I shoot in them now.
" SLIM "
Editor's note: Watch "Cowboys" on Outdoor Channel. You will see shots of "Slim" in action.
Colonel Dan
Thanks again for making those "Colonel Dan" specials! I very much appreciate your 'extra mile' effort and the excellent quality of your products…They are life savers here in Florida and everyone down here raves about them!!!
Good job soldier…
Colonel Dan
Blake Stone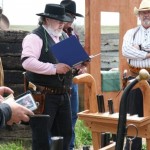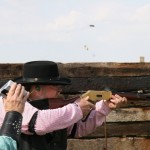 Days run pretty hot in Dakota Territory, but Blake Stone of the Dakota RoughRiders keeps cool (and looks cool) in his "Cooler Cowboy Shirt" from J. Hornaday Dry Goods.
Blake Stone
SASS #56265
Blackwater Bruce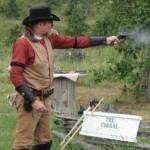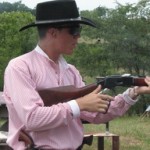 Jimmy,
I attached a couple of pics for ya. Gotta say your shirts are GREAT I've been tellin' all the other folks about them and I know of at least 3 that have bought them
These pictures are from a shoot in aug. the temp was in the upper 90's as was the humidity I was still able to wear a vest and not die from the heat!!!!
Thanks and keep up the good work
Blackwater Bruce
Sass # 85094
Lucky Irish Tom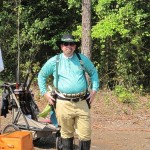 My alias is Lucky Irish Tom and this is a shot of me at Sussex Shooting Sports in Waverly, VA, home of the "Pungo Posse" wearing one of my J. Hornaday shirts. I tend to favor the color green since it goes with my alias. I am a Black Powder shooter in SASS and normally shoot Frontier Cartridge or Frontier Cartridge Duelist.
Regards,
Tom Adams
Yak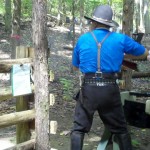 I have 4 of your shirts, they are the best.  Love em'.
Yak
Green River Gunslingers
Bowling Green, KY.
Blue Hills Bill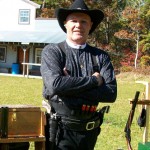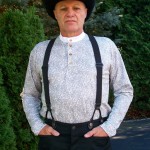 Here's a picture my new shirt. I like it very much. It' all that you said it was and more. One of best things about the shirt that wasn't mentioned is the extra long tail it has. When I bend over to pick up brass at a cowboy shoot -my shirt doesn't pop out. Thanks again for a fine product. "Blue Hills Bill".
Major James and Yosemite Sal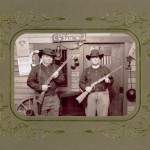 Wearing Red and Black Gunfighter Paisley – James and Camille Bryant
alias Major James and Yosemite Sal
Per your request Jimmy we are also wearing the suspenders that you sold us.
James Bryant
Jimmy here is color picture of Yosemite Sal wearing her favorite shirt
(Red and Black Gunfighter Paisley with the suspenders.
We are both happy with your products and especially like your shirts
here in South Texas. They are much cooler than cotton.
James Bryant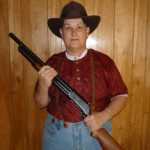 Tamarack
Tamarack of the Hobble Creek Wranglers, Springville, Utah, wearing J. Hornaday Gunfighter Paisley shirt with Saloon Stripe scarf.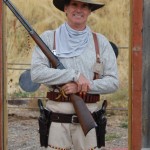 Major Bill
Major Bill from Doc Holiday Immortals wearing Saloon strip shirt and wicking cowboy striped pattern scarve after a hot summer day of shooting in 90 degree Georgia weather. Major Bill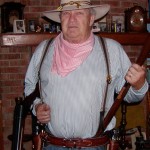 Vaquero Den
The cooler shirt is by far the coolest. The leather strap bags are a great accessory as well as
the pocket loading table bag.Thanks Jim, for great products and service! ( Hey Den…you forgot to mention the Wicking Scarf you are wearing….thanks for the business Pard!)

The Calhoun County BA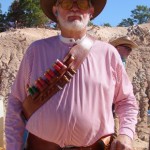 Hi Six String this is a pic of me wearing one of your shirts.
At yesterdays match at Mid Carolina range Gaston SC Palmetto Posse 10/10/10
They really do work good.
The Calhoun County BA
Aka Bill Adkins
Trooper Wayne
Trooper Wayne wearing a Saloon Stripe shirt and Wildflower Red scarf at Old North State Posse in Salisbury, NC.

Captain Jim Ed
Capt. Jim Ed working a new horse at a Cowboy Mounted Shooting event in Malta IL. August 22, 2010 Wearing his Cooler Cowboy Shirt.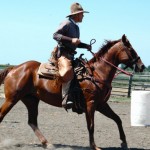 Darwin Peterson Alias: Pete SASS#: 1117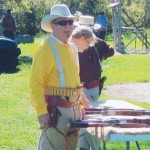 Some folks say that I look like Santa. But I'm really "Back 40" SASS 23910