J. Hornaday Dry Goods
History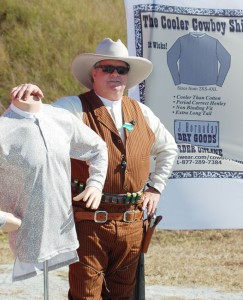 It started with comfort.
Our founder "Six String Jimmy" Murray found that, although he enjoyed the camaraderie and technical challenge of cowboy action shooting, performing in period-correct clothing was a hot job. So he turned to his 21 years of experience in technical garment making and invented J. Hornaday, the Cooler Cowboy Shirt.
With wicking Micro-Euromesh fabric, generous seams and enough length to stay tucked, our henleys help keep you cool under pressure so you can focus on the task at hand. Better shooting is no sweat! Keeps you warm when it's cold too.
J. Hornaday Dry Goods – "Period Correct" modern technical clothing for today's COWBOY ACTION SHOOTER."