J. Hornaday In Action
What's your Cooler Cowboy Shirt story? Let us know. Send to info@reviwear.com

End of Trail Videos
Texas Slim wearing The Cooler Cowboy Shirt

Brian Bausch-Three Time World Champion Mounted Shooter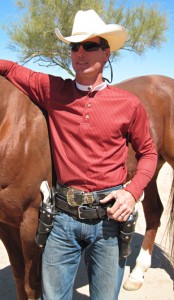 2003 CMSA Overall World Champion
2008 MSA Overall World Champion
2009 MSA Overall World Champion
See Brian in feature article of WESTERN SHOOTING HORSE MAY/JUNE 2010 ISSUE or http://www.brianbausch.com/
Hedley Lamarr
Hedley Lamarr, at Winter Range, on the way to 10th place Frontier Cartridge.
Howdy:"YEA, what a great product."
Today my 'Darlin Dave' wore the red/white stripe version at a SASS Shoot, (Pozo River Vigilance Committee), outside of Santa Margarita, CA in 70+ degree weather with zero breezes.  He LOVED it!  We have 2 of the shirts, (the other is red/black stripe but DD has claimed the red/white one all for himself).  YEA, what a great product.  The shirts will get a lot of use in the coming 'Hot Weather' months here on the Central Coast in California.  Sorry that I did not have my camera with me…left it at home for once.
Best Regards,
Ima Lotatrubl writing for Darlin Dave
Jim Ed Erimie
"Dear Jimmy: Just got home from a nice trip to NM/AZ for some fun, family and holidays. Got a chance to wear my new Old timey revi-Henley at an ACMSA Mounted shooting event in AZ on January 9, 2010. I was fortunate enough to borrow my pals World Champion Mare Dot, and attend the event which was scheduled after I left home.  I really liked the shirt and it performed well. After 18 days in a duffle bag it was still wrinkle free."
Jim Ed Erimie
Tracker Mike
Tracker Mike on his way to a Clean Match and NC Sr. Duelist Champ finish at the SASS NC State Championships.
" I love these wicking cowboy shirts. They travel well and keep me more comfortable in both warm and cold weather conditions. I have been surprised that the shirts seem to help in cooler weather as well."
TM
Joe Danby: "This scarf is a lot cooler than my silk ones."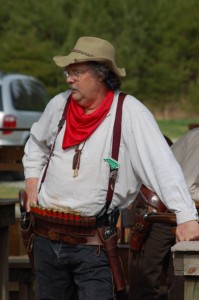 Carolina Leadfoot
"Foot" as he calls himself, was one of the very first customers for the COOLER COWBOY SHIRT. He has since then bought a couple more and sure seems to like them. He is one heck of a nice guy and a great pard to shoot with. Quick with a story or a joke….. and boy he can really nail those clay target poppers for shotgun bonus!