Cowboy Identity/Custom Printed Items
Custom Print License Plates and Vehicle Tag Frame
Great for your guncart, trailer, vehicle and more! Tell 'em who you are or what you stand for! Just pick the background and tell us what to print.Vivid color on our 6×12″ Plates and frames. Special pricing for larger quantities available for clubs, groups and events.$19.95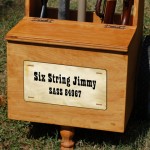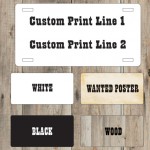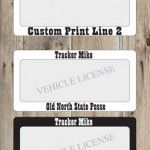 for Each Item.
BUY NOW- License Plate
BUY NOW- Vehicle Tag Frame
Loading Table Shell Bag
Just the right size and custom printed too! This fleece drawstring bag is a great way to get your ammo and brass to and from the "Loading/ Unloading" tables.
Just big enough to carry what you need for the stage and not get in the
way. Hangs great from your gunbelt! We also Custom Print your alias or message too. $12.95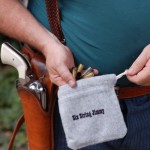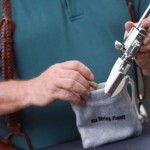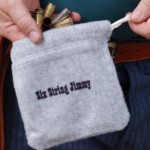 BUY NOW
Leather Trim Cart Bag
Built to last for years and custom printed too!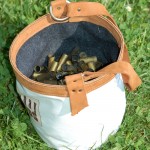 This quality bag is big enough to off load shells from your revolver. The 6″mouth stays open and the bag stays upright to make it an easy job to collect all spent brass and shot shells at your match. Custom printing is included in the price, so tell the world who you are!
Features heavy denier poly duck fabric, durable stitched leather trim and brass buckles. Lined with dark denim to hide powder dirt.
Please allow 4 weeks for Delivery as this is a custom made item. Price - $34.95
This was designed to my specs and I have used mine extensively. It works great keeping shot shells and brass together at matches and at practice. I love mine. Six String Jimmy
Custom Print Memory Foam Seat Pad

Sit a spell Cowboy! This memory foam / wicking fabric pad cushions and wicks moisture off your "saddle side" on a hot day. Your name or message is proudly displayed in dimensions to fit  up to a maximum 20×20″ pad size. Just pick the background ,tell us what to print and how big . Measure your cart seat and we'll cut to size and layout art to fit. Vivid color print and is washable . Available backgrounds: White, Black, Wanted Poster and Wood.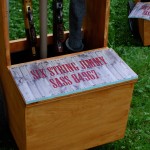 $24.95 BUY NOW
Cowboy Event Banners
Add that extra touch to your next shoot!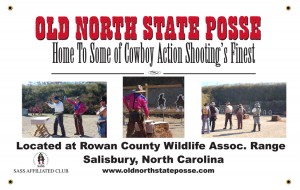 We print whatever you want on durable polyester fabric. Hi Rez fine detail photos and text are no problem. Send us your own file or our professional art department can create it for you. It's Easy!
We can add grommets and pole pockets to make displaying quick and good looking. It's also a great way to show pictures from last year's shoots and get new members. Plus they are strong and last for years of use.
Standard size is 3′x5′ and may be oriented landscape or portrait.
Custom sizes are available. Quantity discounts are available. Please call for quote. We also can create fabric signage for separate stage #'s and description.
3′x5′ Fabric banner- $99.95 each complete with set up.
Sight Covers

Protect your sights and stocks!
Custom Print your name

These foam / fabric slip on covers protect your expensive tang and barrel sights and  keep your stock from getting dinged. We can custom print your name or message on one side. Sold by the pair. BUY NOW