Add some of that Old West Flair with J. Hornaday Cowboy Accessories.
NEW! Premium Concho Scarf Slides
These fine scarf slides give you a great old west look and help hold your scarf out of the way. Like you cowboy, they will only get better looking with age.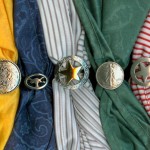 Buy Now
NEW! Cowboy Identity Badge
We custom print your name, posse, club, or message in emboss shaded graphics in as many as four locations. Look twice because it really does look real.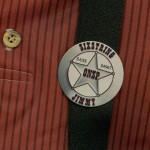 Custom Print Name Badge- order as few as one! Buy Now
NEW! Cowboy Action Suspenders
These premium suspenders are made in USA. They'll support your trousers at a price that's no "Hold Up!" Features Pliable leather tabs that are easy on and stay put on your trousers. 1 1/4″ Width Elastic doesn't snag as easily as wider goods. Great colors to match any outfit.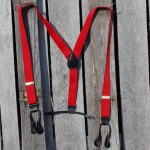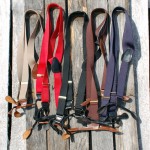 Colors: Tan, Red, Black, Brown and Navy.
$24.95 Each BUY NOW
Wicking Cowboy Scarves
Outperforms silk hands down!
New Washed Paisley Series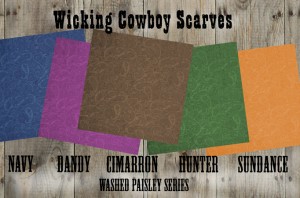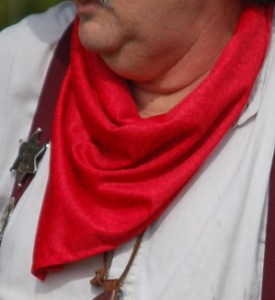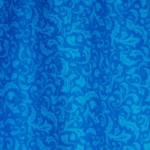 Because DRY IS GOOD. Our scarves are made with the same wicking finish that goes on our Cooler Cowboy Shirts. Simply put, they are cooler than silk when it's warm outside. They will out wick silk and keep you warmer when it's chilly. Plus they will not fly around in the breeze like a silk scarf will. Machine wash and dry, too. 30″x30″ Made in our NC Factory.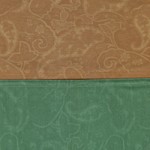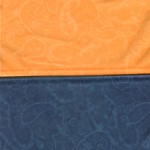 Supercharge the cooling effect by dipping the scarf in your cooler or spritz with ice water. Intro Price – $19.95
Custom prints available for clubs and events. Great for match prizes and Event Staff Uniforms.
Old West Suspenders
Braided Leather and Fancy Reinforced Stitching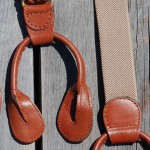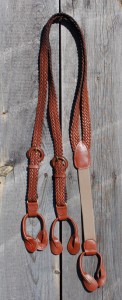 Look Sharp and Shoot Better! Suspenders worn in place of a belt give the cowboy shooter more freedom to move and feel less restricted. Features 3/4″ braided leather and stitched stress points on tabs and buckles. These quality suspenders will last longer and resist falling off your pants from wear. Approximate total length of 50." Intro Price – $34.95
Old West Suspenders Button Kit
Convert your favorite jeans into CAS TROUSERS!
A lot of cowboys complain about the fit and cost of "PERIOD CORRECT" trousers. Plus, a belt under your gunbelt is just uncomfortable. Now you can convert your favorite old pair of jeans into suspender ready CAS pants in about 5 minutes. It's that easy. Kit consists of 6 buttons and 6 tacks. Make a hole with a small nail and insert tack through hole and hammer button onto tack.Cut the belt loops of your pants and "aint no body gonna' 'cuse you of being a gamer." Nickel Finish Available. $9.95
Wicking Arm Garters
Keep your sleeves up and cuffs out of the way for faster shooting!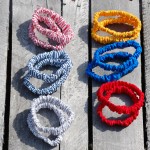 Sleeve garters were used by bartenders, shop keeps, gamblers and the like to keep their sleeves up and cuffs out of the way. Just so happens that these are functional for Cowboy Shooters of today for just the same purposes. Features a tube of our wicking fabric around a durable inner elastic 1″ band. One size. Intro Price – $12.95 per pair

Loading Table Shell Bag
Just the right size and custom printed too! This fleece drawstring bag is a great way to get your ammo and brass to and from the "Loading/ Unloading" tables.
Just big enough to carry what you need for the stage and not get in the
way. Hangs great from your gunbelt! We also Custom Print your alias or message too. $12.95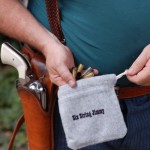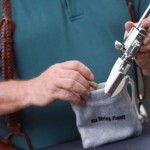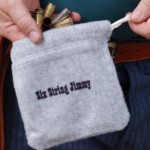 BUY NOW
Leather Trim Cart Bag
Built to last for years and custom printed too!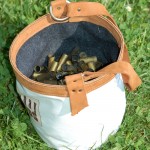 This quality bag is big enough to off load shells from your revolver. The 6″mouth stays open and the bag stays upright to make it an easy job to collect all spent brass and shot shells at your match. Custom printing is included in the price, so tell the world who you are!
Features heavy denier poly duck fabric, durable stitched leather trim and brass buckles. Lined with dark denim to hide powder dirt.
Please allow 4 weeks for Delivery as this is a custom made item. Price - $34.95
This was designed to my specs and I have used mine  extensively. It works great keeping shot shells and brass together at matches and at practice. I love mine. Six String Jimmy
Guncare Cleaning Cloths
You'll never use old socks or paper towels again!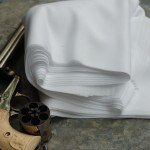 1/2 pound will last you for seasons of shooting.
These washable fabric cloths are remnants from when we cut to make our shirts and scarves. The shape and size will vary, but most are big enough to cut down in half and still wipe down a rifle properly.
The can be cut down and used to clean bores and smaller parts too.
Because they wick, the fabric parts work great in the kitchen, washing cars and anywhere you need a durable wash cloth. They will long outlast paper towels and with their slight texture you can really grab the grime!
Thanks for helping us recycle. $9.95 per 1/2 pound bag.
BUY NOW
Cowboy Event Banners
Add that extra touch to your next shoot!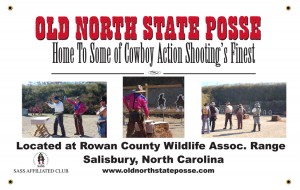 We print whatever you want on durable polyester fabric. Hi Rez fine detail photos and text are no problem. Send us your own file or our professional art department can create it for you. It's Easy!
We can add grommets and pole pockets to make displaying quick and good looking. It's also a great way to show pictures from last year's shoots and get new members. Plus they are strong and last for years of use.
Standard size is 3′x5′ and may be oriented landscape or portrait.
Custom sizes are available. Quantity discounts are available. Please call for quote. We also can create fabric signage for separate stage #'s and description.
3′x5′ Fabric banner- $99.95 each complete with set up.
Gun Cart Padding and Tabletop Kit
Make your cart more gun friendly!
Cut to size peel and stick wherever you need it! It's that simple. Add additional padding to help eliminate needless dings and dents on your shootin' Irons. Kit consists of a 1/2 yd sheet of 1/4″ foam cushion backed with soft black poly fabric and peel and stick adhesive on the other side. Also makes a great surface pad for gun care needs! The uses are nearly limitless. Put your cowboy thinkin' hat on!
$19.95 for 1/2 yard sheet. Other sizes available, just ask. BUY NOW
NEW COWBOY THERMALS /Made in USA!
Stay warm at a super Low Price Normally $36.95 Now only $19.95
Buy Shirt Now
Buy Pants Now


Feel free to call us and place an order for later delivery if you do not see the size/color shirt listed in our shopping cart. 1-877-289-7384
Thank you. J Hornaday